About Gates On the Fly
Gates On the Fly has unique technology to solve netlist ECO problems IC designers are facing. The tool is now in the 5th generation. There is always a break through in every generation. The 5th generation has similar or better ECO result than Conformal ECO.
Netlist ECO Solutions
GOF, Gates On the Fly, integrates leading technologies and methodologies to provide complete functional netlist ECO solutions. The tool supports Automatic ECO, GUI ECO and Script ECO seamlessly. The Automatic ECO feature beats Conformal ECO in patch size.
The tool does Automatic ECO in both global mode and incremental mode. The global mode can have full picture of the design and the ECO result can be guaranteed to be equivalent.
The advantage of incremental way is efficiency and performance. Users can focus on the problematic logic, not being distracted by unrelated things. The tool does Schematic and Layout View in incremental way.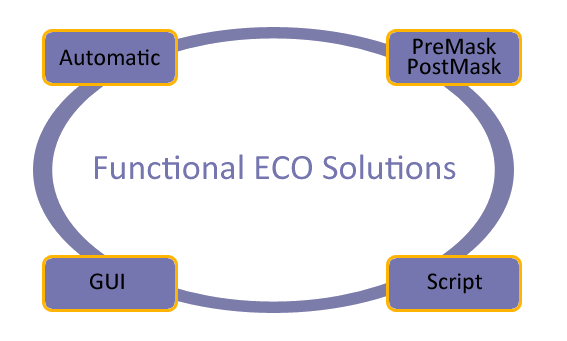 Figure 1: ECO Solutions
Compared to competitors
| | | | |
| --- | --- | --- | --- |
| | Gates On the Fly | Cadence Conformal ECO | Synopsys Formality Ultra |
| Performance | | | |
| Flexibility | | | |
| Price | | | |
GOF Beats Conformal ECO cases
Many use cases have been found that GOF creates smaller patches than Conformal ECO. Two cases are listed here.